To Tear Down and to Build Up
Evangelism in a Post-Christian Culture
Kevin Makins and Robyn Perry
Most "regular people" don't know what "the gospel" is,but they think they do…. and their image of what  "Christian" means ain't positive!  How do we present the gospel in a way that breaks through this barrier?  How to we lift up the true person of Jesus? 
An American survey of young people aged 16-29 revealed that 87% saw Christianity as judgemental and 85% saw it as hypocritical. Even more shocking? This study was done in2007! Since then negative associations with Christianity have continued to solidify, which partnered with social media, has lead to a culture of skepticism and antagonism when it comes to talking about our faith.
Here's the good news: the God that Jesus showed us is a God of transformative love, radical hospitality, and endless mercy.
But to get to this good God we are going to have to travel through the junk. We'll need to tear down the false images of God that have stuck with our culture, in order to celebrate the God that Jesus revealed. Because like it or not, Christianity represents something negative to most of our non-Christian neighbours, and we have to start exactly where they are!
How can we tear down these false images? How can we share the good news in a way that breaks through this barrier? What words, ideas, and images point to Jesus of Scripture, and which have been hijacked? Can we reclaim that hijacked language or should we throw it out? How can we witness to the Way of Jesus in our every day lives?
Kevin and Robyn will share their experiences, and the experiences of their congregation. Together we'll look at being witnesses in a skeptical, thoughtful, and intelligent urban environment that is just desperate for some good news.
Kevin Makins  is the founding pastor of Eucharist Church (eucharistchurch.ca) and the host of the GOOD GOD! podcast (goodgod.ca). Through storytelling, conversation and creative projects he is exploring what it means to follow Jesus in a post-Christian, Canadian culture. Kevin lives, works, plays and prays in downtown Hamilton.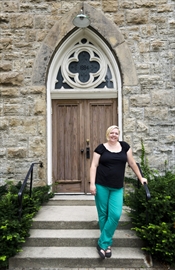 Robyn Perry became a Jesus follower a few years ago.  Before baptism she would have described herself as an atheist.  She is still trying to make sense of this in the context of a life lived and built outside of The Church and suspects it will be a lifelong journey.  This journey is both enhanced and derailed by a lifetime of academics, activism, and living with and loving non-Christians.